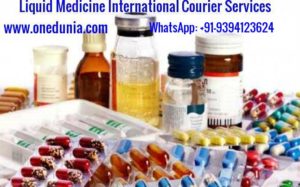 If you are individual or have been in business and you have been shipping products across various parts of  international markets, most of you have faced the problem of delivering couriers with liquid products.
One Dunia Medicine Express is proud to be one of the best courier partners for parcels with liquid products. In fact, we have been regularly providing cost effective courier solutions to various companies in pharma, Individuals to Individuals, Doctors, Medical Shops,  and e-Commerce industries. Our courier solutions for liquid products cater only to international markets. Some of the salient features of our services –
Liquid courier solutions that cover only international markets.
Courier parcels may be any of the following product types – Oil, Shampoos, Lotions, Herbal bottles, etc.
Allopathic Liquid Medicines, Homeopathic Liquid Medicines, Mother Tintures, Ayurvedic Liquid Medicines, Herbal Liquid Medicines, Unani Liquid Medicines etc.
PLEASE NOTE –
Though it is our constant endeavor to provide the best possible courier solutions. Some products, classified as Dangerous / Inflammable / Highly Hazardous etc., are not accepted by us for courier services.
One Dunia Medicine Express

16-2-138/A/1, Beside Akbari Masjid, Akbar Bagh Circle,
Malakpet,Hyderabad
Telangana 500036, INDIA
Phone: +91-9394123624
(If we're unable to take your call, please leave your number and we'll call you back at our earliest convenience.)
Website: http://www.onedunia.com